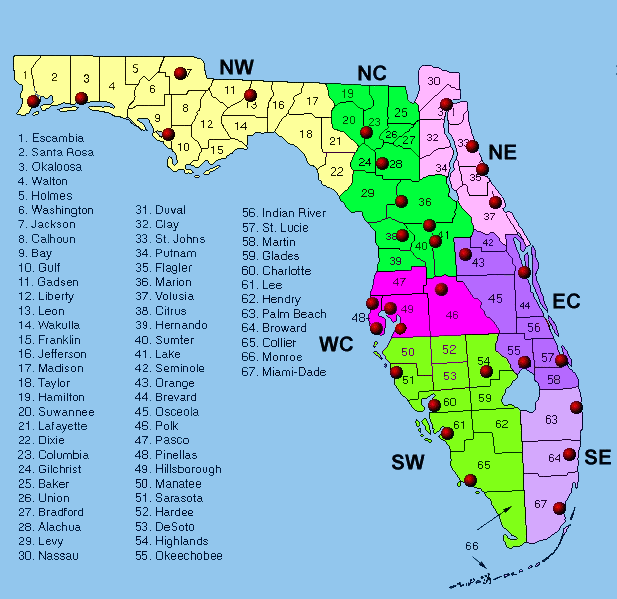 Chapters Locations
Red Bullets represent the locations of the Florida Society's 34 chapters. Placing your cursor over the circle will display chapter name, charter city and the Area it serves. Colored Areas are the FLSSAR Regions.

Northwest Region (NW) Chapters: Pensacola, Aaron Snowden, Emerald Coast, Panama City, William Dunaway, and Tallahassee.

North Central Region (NC) Chapters: Gainesville, Ocala, The Villages, Lake-Sumter, Lake City and Withlacoochee.
Northeast Region (NE) Chapters: Jacksonville, St Augustine, Flagler, and Daytona.
East Central Region (EC) Chapters: Brevard, Central Florida, Treasure Coast, St. Lucie River and Okeechobee
West Central Region (WC) Chapters: Maj John DeVane, Lakeland, Tampa, South Shore, and Clearwater.
Southwest Region (SW) Chapters: Saramana, Caloosa, Charlotte, Highlands, and Naples.
Southeast Region (SE) Chapters:
Palm Beach, Ft. Lauderdale, and Miami.